Dear NMSDC Community,
It is with mixed emotions that I announce that Adrienne Trimble will be stepping down as President & CEO of NMSDC. Adrienne joined the organization in August 2018 with a three-year contract. She has decided to return to the corporate world to continue advancing diversity, equity and inclusion efforts. Her last day with NMSDC is February 28, 2021.
During Adrienne's short tenure, she successfully:
Developed and executed against the long-term vision for NMSDC to continue its legacy of growing and advancing minority business inclusion
Re-established the organization as the leading advocacy voice for supplier diversity and
economic inclusion
Led the organization through a global pandemic, bringing much needed resources, capital and contracts to MBE and leading the way with virtual programming and events
In the wake of calls for social justice she created and launched the In This Together (ITT) campaign, which raised over $2M to sustain minority businesses
Reversed the decline in corporate memberships and MBE certifications, adding 80 new corporate members in 2020, the highest number of new members in a single year in NMSDC history
Introduced new revenue streams to the organization
Stood up a committee to assess and recommend NMSDC and RMSDCs operating model
for the future
Increased transparency within the network
Began addressing skill and infrastructure needs at the National Office
Strengthen and recruited a solid Executive Leadership team
A search committee has been established consisting of Board Chair, Jose Turkienicz; Vice Chair, Guy Schweppe; Treasurer, Clint Grimes; Secretary, Gabe Castro; Chair of the Affiliate Presidents, Stacey Key; and former National MBE Input Committee Chair, Clifford Bailey. Interviews are currently underway and we hope to have a final selection soon.
The NMSDC Executive Leadership team will remain in place and report directly to the NMSDC Officers while a search is conducted for the next President & CEO.
We thank Adrienne for her tireless efforts of advocacy and support for minority business inclusion and wish her much success in her future endeavors.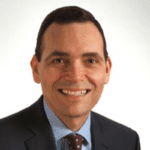 Jose Turkienicz
Chairman of the Board of Directors
NMSDC