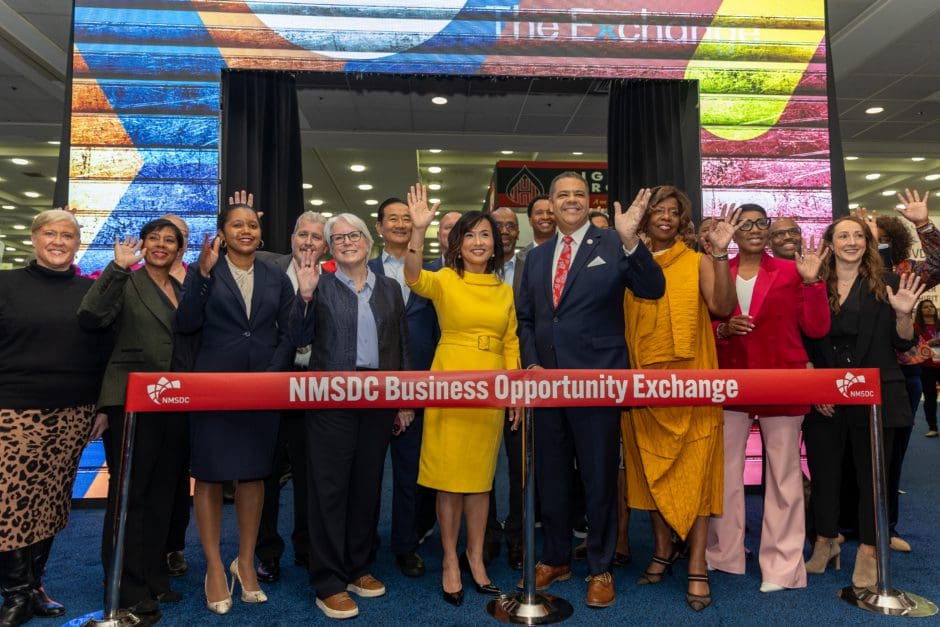 Last month (Oct. 22 – 25), over 5,200 individuals representing minority business enterprises (MBEs), corporate leaders, and policymakers came together at the NMSDC Annual Conference & Exchange and MBDA National Med Week in Baltimore to begin the discussions and work needed to close the equity gap and accelerate growth for MBEs. This year was the first time NMSDC, and the Minority Business Development Agency (MBDA) have partnered to bring their two premier MBE development events together. We had lofty expectations this year and we are happy to say Charm City did not disappoint.
On Sunday, several pre-conference activities took place including important industry group meetings and the conference before the conference created by MBEs for MBEs, the Opportunity Accelerator (OA23). OA23 provided incredible speakers and opportunities aimed at providing NMSDC-certified MBEs with the resources and connections needed to leverage their certification and grow their businesses. Later that evening, the Annual Conference & Exchange kicked off its official programming with a B'more Connect Welcome Reception at Power Plant Live!, a unique venue with many opportunities for mingling with fellow conference attendees. In addition to networking (and delicious food), attendees enjoyed opening remarks from Baltimore Mayor Brandon Scott, MBDA Undersecretary Donald R. Cravins Jr., and NMSDC President and CEO Ying McGuire.
Day two of the conference kicked off with insightful and inspiring mainstage programming including welcome remarks from MBDA and NMSDC leadership, as well as today's top corporate leaders who shared their insider perspectives on the future of MBE development and emerging industry trends. During her opening remarks, McGuire called on corporate leaders to recommit to supplier and business diversity, emphasizing what was to be a unifying theme throughout the conference, "Growth for MBEs is growth for all."
Following the morning mainstage conversations, attendees dispersed for the first round of NMSDC's crowdsourced, Impact Labs. These breakouts focused on the topics and training needed to help NMSDC MBEs and corporate members accelerate minority business development and begin closing equity gaps in the economy.
After an insightful afternoon of mainstage conversations including remarks from Maryland Governor Wes Moore and Capitol Region Minority Supplier Development Council (CRMSDC) President Sharon Pinder, the premier networking event for MBEs and supplier diversity professionals, the Exchange got underway. This year's event not only provided countless opportunities for MBEs to connect with today's leading corporations but also brought back last year's Power Talks, short sessions aimed at helping MBEs and supplier diversity professionals identify the latest trends and opportunities to close equity gaps and accelerate MBE growth. NMSDC also hosted a demo of its new certification database including live updates of MBE profiles.
Following another evening of networking in Baltimore, MBDA programming took center stage on the Tuesday of the conference with several keynote speakers from the federal government including U.S. Department of Transportation Secretary Pete Buttigieg, U.S. Small Business Administration Administrator Isabel Guzman, and others from the Biden-Harris administration sharing their perspectives on how the federal government can assist in closing opportunity gaps for minority businesses. The second and final day of the Exchange also took place with additional networking and business and professional development. Tuesday concluded with an evening of receptions, including MBDA's 40 Years of National Med Week Celebration at the beautiful Baltimore World Trade Center.
Wednesday marked the last day of the conference and it was jam-packed with incredible content aimed at building on the previous day's lessons. In addition to mainstage sessions covering everything from increasing access to capital for MBEs to the impact of recent legal challenges to DEI, the Emerging Young Entrepreneurs (EYE) program held its annual pitch competition, with the top three winners receiving capital to help expand their businesses.
Following an afternoon of Impact Labs and NMSDC's Annual Members' Meeting, the Annual Conference & Exchange concluded with what is a yearly highlight of the conference, the Annual Awards Ceremony and Farewell Reception. The top companies, regional affiliates, and individuals in supplier and business diversity were recognized during an awards dinner and ceremony that was an inspirational showcase of what is possible when we all work together to close the equity gap and create long-lasting, generational wealth for communities of color.
Following the awards ceremony, NMSDC attendees experienced one last surprise with a farewell reception sponsored by Amazon celebrating 50 years of hip-hop with performances from DJ Kool and Kid 'n Play. This year's NMSDC Annual Conference & Exchange and MBDA National Med Week demonstrated the full potential of the minority business community and how by working together, the NMSDC network and MBDA can close the equity gap and create the more resilient, and inclusive economy needed to ensure the future prosperity of the United States. NMSDC looks forward to building on this momentum at next year's conference, Oct. 20 – 23, 2024 in Atlanta.
Learn more about the 2023 Annual Conference & Exchange at https://www.nmsdcconference.org/2023/.