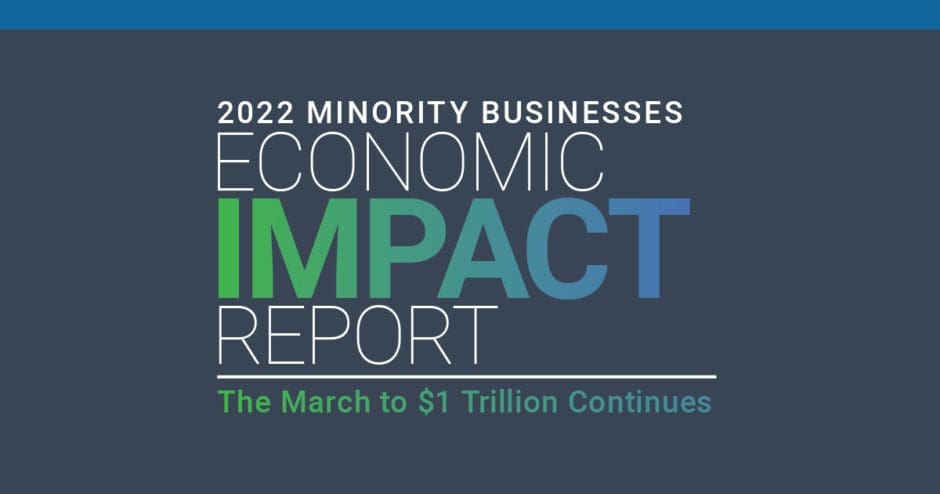 The National Minority Supplier Development Council (NMSDC) announced the release of the 2022 Minority Businesses Economic Impact Report during its Minority Business Economic Forum in Miami. The report gives valuable insight into understanding NMSDC-certified minority business enterprises' (MBEs) role in the U.S. economy and how they are leading the next wave of economic equity and business diversity. Building on findings from 2021, this year's report aims to accomplish three primary goals:
Track progress towards NMSDC's ambitious goal to reach $1 trillion in NMSDC-certified MBE annual revenue.
Uncover any disparities that exist between NMSDC-certified MBEs to provide direction in programming and development efforts to address them.
Provide regional and state-level growth data to better focus and align the NMSDC network's advocacy efforts.
"Last year we celebrated our 50th anniversary by setting an audacious goal to reach $1 trillion in annual revenue for NMSDC-certified MBEs. This year's Minority Businesses Economic Impact report reflects our progress toward that goal as we ride the next wave of MBE growth and get closer to our ultimate goal of ending the racial wealth gap," said NMSDC CEO and President Ying McGuire.
The report shows the growing impact that NMSDC-certified MBEs are having on the U.S. economy including:
$316.2 billion in total annual revenues for certified MBEs (a 21% increase from 2021).
$482.1 billion in total economic activity.
1.8 million U.S. jobs supported.
$136.4 billion in total wages.
In addition, in 2022, annual revenue for MBES increased across each of the communities of color NMSDC serves:
Asian Pacific revenue totaled $94.4 billion, a 34.9% increase from 2021.
Hispanic revenue totaled $77.7 billion, a 23.3% increase from 2021.
Asian Indian revenue totaled $71 billion, a 20.3% increase from 2021.
Black revenue totaled $59.6 billion, a 4.6% increase from 2021.
Native American revenue totaled $13.5 billion, a 12.5% increase from 2021.
The report also showed that:
Asian Indian businesses account for 16% of NMSDC-certified MBEs.
Asian Pacific businesses account for 12% of NMSDC-certified MBEs.
Black businesses account for 41% of NMSDC-certified MBEs.
Hispanic businesses account for 28% of NMSDC-certified MBEs.
Native American businesses account for 3% of NMSDC-certified MBEs.
"While NMSDC was excited to see continued growth across all the communities it serves in this year's Minority Businesses Impact Report, it also highlights the disparity that Black businesses continue to face in the United States, said NMSDC Senior Vice President of Success Fernando Martinez. "We are dedicated to working with our corporate members, MBEs and other strategic partners to explore how we can enact and promote solutions that address this inequity," he added.